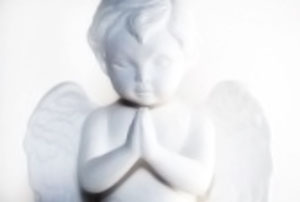 The angels' and archangels' week
During these days we celebrate the beings of light which are the angels.
For one week we are going to get closer to our enlightening helpers, in various angel meditations as in our daily life. The only thing to do is to open our hearts towards their playful and pure reality full of light, love and compassion.
But also we ourselves can be like angels on earth, giving our fellow men a smile, attention and the love we all deserve, bringing back warmth in our hearts and enlivening true qualities of humankind: Love, Care, Compassion, Charity, Forgiveness.
It is only fitting that we celebrate the Angels on this period, being also the time when many celebrate Halloween - therefore while many people are calling beings of darkness (by dressing up as monsters and demons) - we will be calling the angels of light.
The Angels and Archangels week is celebrated all over the world by thousands.
On every day of the angel and archangel week we will present two angels and then meditate upon them with the aim of entering into spiritual communion with that angel.
Read more about it on www.angelsweek.com.
The meditation program:
Sunday, 26.10.14

18.00 – 18.20 h*

The WORLD of ANGELS

Monday, 27.10.14

18.00 – 18.15 h*


18.45 – 19.00 h*

The Governor and Protector Angels of the WATER Element (the Founder of East)

The Protector Angels of SERENITY

Tuesday, 28.10.14

18.00 – 18.15 h*


18.45 – 19.00 h*

The Governor and Protector Angels of the FIRE Element ( the Founder of West)

Archangel URIEL

Wednesday, 29.10.14

18.00 – 18.15 h*


18.45 – 19.00 h*

The Governor and Protector Angels of the AIR Element ( the Founder of north)

The Protector Angels of DISCERNMENT

Thursday, 30.10.14

18.00 – 18.15 h*


18.45 – 19.00 h*

The Governor and Protector Angels of the EARTH Element ( the Founder of South)

Archangel ARIEL

Friday, 31.10.14

18.00 – 18.15 h*

18.45 – 19.00 h*

The Protector Angels of HEALTH

Archangel RAPHAEL

Saturday, 1.11.14

18.00 – 18.30 h*

The GUARDIAN ANGEL

Sunday, 2.11.14

18.00 – 18.20 h*

Archangel CHAMUEL
* All times are Danish time